I recently aquired an old wooden rowboat and would like to Identify it. I posted it on Woodenboat.com and the users there said that I might have better luck on this site since the manufacturer might have been a canoe builder.
Here is the history that I know. The boat has been on an Island on Lake Winnipesaukee NH. The Island has been owned by the same family since 1912. The oldest of the current generation said his memories go back to the 50's, and as far as he can remember, the boat has always been there. In the 60's, the Grandfater had all the then teenagers do a weekend project and fiberglass the exterior of the hull. It has two sets of oarlocks on it, however I don't believe either of them are original. I can't find any identifying information, possibly there will be something under the fiberglass.
The boat is 13' 6" from bow to stern (topside). It is a beautiful boat and my plans are to strip the fiberglass and try to restore the original wood look. I am a total beginner, and although I have always had an affinity for wood boats, this will be my first project.
Here are some pictures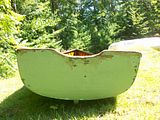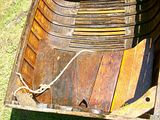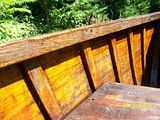 [URL=http://s986.photobucket.com/albums/ae345/sleddude72/?