Curious about Wooden Canoes
I'd like to post a problem that has just cropped up with my recent completion of a '49 Old Town HW model restoration (See
1949 Old Town HW model Restoration
) that I'd like to put out for the community to respond in the hope that there is a consensus as to what might have occurred.
First let me provide some pertinent (I hope) background info which pertains directly to the restoration shown in the link provided above:
Canvas filler was applied 11/20/21 (used a gallon I bought from Rollin Thurlow)
Two coats Kirby's marine primer applied (grey) with final coat on 4/16/22 (So there was plenty of time for the filler to cure/dry completely).
Four coats of Kirby's topside alkyd-enamel based marine paint. Final coat applied 4/30/22.
Hull waxed/polished with a good carnuba wax on 6/1/22.
Canoe was launched on 6/4/22 and taken for only an initial 15 minute paddle.
On 6/12/22 the owner stored her inside a canoe cover (total encapsulation cover, zipped, nylon, breathable, not waterproof), stored her upside down on a padded rack in a covered, open-sided shed.
She stayed that way for 2+ weeks during which time we had some pretty hot, humid days.
On 6/29/22 owner removed the canoe to use and found the paint had bubbled at the bow and stern. See attached photos of the problem areas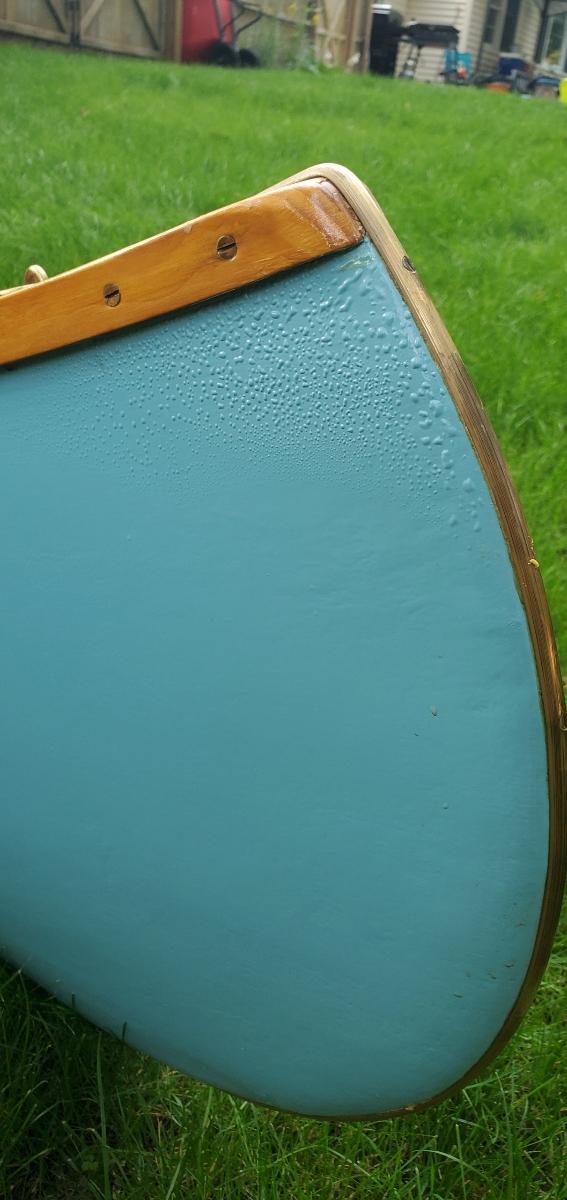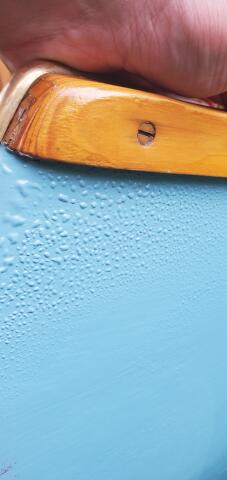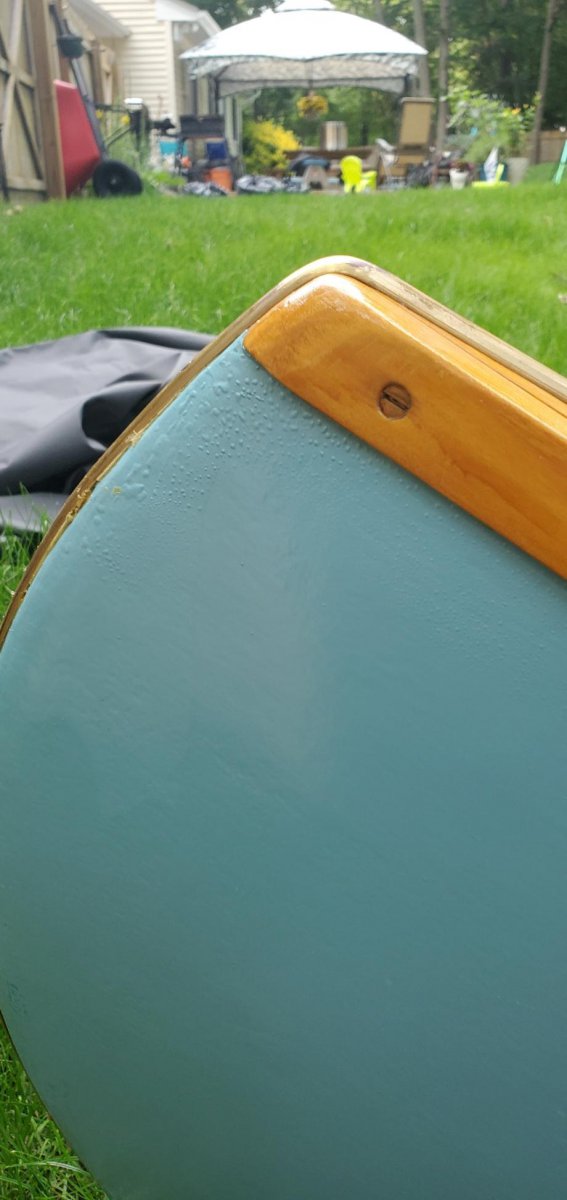 My initial thought is that heat and humidity build up while inside the cover caused the paint to bubble or maybe it was some sort of chemical reaction. I don't know at this point (I am leaning towards the former cause though). I don't think I'll be able to feather a repaint into the original (it's a gloss paint) so it looks like a full hull resanding effort followed by another coat of paint.
But before doing that I'd really like to figure out what went wrong.
I'd be most appreciative if the community could share some thoughts on the issue and whether or not anyone has encountered this type of failure before.
I plan to do a good resanding, followed with a good solvent wash then a repaint. Any other tips for refinishing these problem areas would also be most appreciated.